Dragon Back
Distance: 8.5 Km
Duration: 3.0 hours
Diff.:
Scn.:
Start: Bus No.9, Mini bus from Shau Kei Wan, Get off at To Tei Wan
End: Bus No.9, Mini bus to Shau Kei Wan
Map data download in progress
* The data provided from Google Map is only for general reference with deviation from the actual environment.
To Tei Wan
The trail begins beside the bus stop of To Tei Wan with a gentle ascent. Futher up, it gives a beautiful view of Tai Tam Bay and Stanley Peninsula. Sometimes some of parachutes float overhead because there is also a popular place of playing parachute. Coming to a pavilion, take an uphill path on the right from the branch to Dragon's Back.
Dragon's Back (also named as Shek O Peak)
The trail undulates gently up towards a ridge. At highest crest, you are enclosed among the splendid scenery. Shek O, Big Wave Bay, opposite coast of Peninsula of Clear Water Bay and Pacific Ocean as far as the eye can see, all come into full view from a lookout pavilion. Afterward, follow the trail downhill. Deviating from the ridge, it becomes steep a little until joins a smooth(level) path and then turns right to go.
Tai Tam Gap and Pottinger Gap
The trail runs a forest path parallel to Shek O Road. Although sometimes hear sound from cars, it is also feeling well. Go ahead, the trail passes Tai Tam Gap and joins a concrete road. At the junction, take a path on the right to Pottinger Gap. In the mid-section, you can overlook an open view of Chan Wai. Along the smooth trail, it comes to a pavilion with a small lawn in front of it - Pottinger Gap.
Exit:At the junction of Tai Tam Gap, the path on the left can lead you down to Shek O Road.
Big Wave Bay
Taking a path by the pavilion of Pottinger Gap, the trail winds parallel to a catchwater. Follow it and soon pass a branch of Hong Kong Trail on the right that is also to Big Wave Bay without open scenery. Ignore it and still trace forward. Afterward, the trail reaches another fork. Take a downhill path on the right and pass through a flight of steps well paved with stone that leads down to Big Wave Bay.
During the downhill, you can overlook the Big Wave Bay with sea wind. A grand view of the long rugged contour of Dragon's Back can be seen on your right. In the distance towards the sea, Peninsula of Clear Water Bay and Tung Lung Chau are also within sight. In the final leg, it passes a barbecue site at seaside, follows inside egde of the beach to its end and joins a concrete road to the bus stop.

Branch:Following the trail along the catchwater from Pottinger Gap, will soon reach the branch of Hong Kong Trail on the right. You could also take it to Big Wave Bay village which is almost a wooded path but shorter.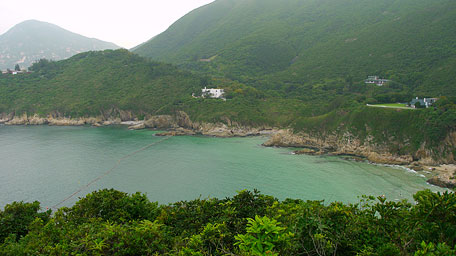 Indented rocky coast
Summary
Taking just an hour or fewer from the city, can enjoy with your eye on the picturesque natural scenery. It's not surprising to be selected by TIME Asia as the best urban hiking trail.
Last Update : 30.01.2015
Suggestions: